God's Word Pierces into Our Heart and Soul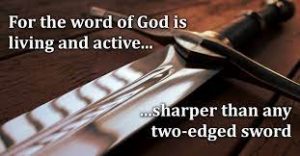 Hebrews 4:12–13 (NIV): For the word of God is alive and active. Sharper than any double-edged sword, it penetrates even to dividing soul and spirit, joints and marrow; it judges the thoughts and attitudes of the heart. 13 Nothing in all creation is hidden from God's sight. Everything is uncovered and laid bare before the eyes of him to whom we must give account.
Why read, study, and reflect on the Bible? Some see it as an ancient document which is no longer relevant to our lives today. However many know it to be the inspired Word of God, and therefore, as the author of Hebrews contends, it is living and active. It is not irrelevant at all, but a means through which God speaks directly to our innermost being, into our hearts and minds. God's Word exposes our true thoughts and intentions, revealing our hearts, including the dark places where we have drifted from God, and the lies we have told ourselves and believed.  This is often uncomfortable, even painful sometimes. But it is this cutting to the heart and soul that allows us to repent (I.e. turn away from), receive forgiveness. and walk closely with God to experience the fullness of life he came to bring us. Are you reading and reflecting on the Bible on a daily basis? Are you allowing God's Word to sink in and penetrate into your heart and mind?  Even if you are reading it, are you allowing it to read you (or rather the Spirit of God through it)?  Or are you holding God's Word at a safe distance, reading it simply for understanding and information so you don't have to be convicted, challenged, or cut to the heart which leads to transformation?
Spend time daily reading AND reflecting on God's Word.  Allow the Spirit of God to penetrate into your heart and mind.  Ask:
What is the meaning of this Scripture passage in its original context?  And then based on that…
What is God saying to me through this passage?  What does God want me to think, believe, or do?
God will reveal his will to you in this way if you are willing to take time to read and listen, but then comes the last question…
Will I express my love and obedience to God by choosing to do what God has revealed to me (John 14:15)?